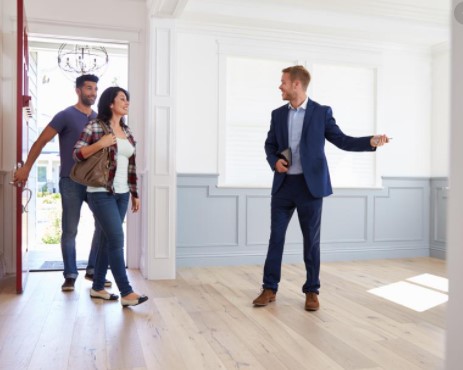 Let's face it, showing your home to potential homeowners can be inconvenient.  You have to straighten up, pack up the family, take the dog and vacate your home.  And the longer your home is on the market, the more burdensome it becomes. Sometimes the timing is just plain bad. But think twice before denying showings of your home.
Denying home showings is one of the big mistakes a homeowner can make when selling their home.
I NEED TO SELL MY HOME BUT I DON'T WANT TO LET YOU IN TO SEE IT
Occasionally, I have home sellers that just seem to deny half the showings that are requested…..
Or, often when I am working as a Buyer's Agent, there are always houses that are extremely difficult to show.
We have family….  we have to get the kids of to soccer… I have to bake a cake for my nephews birthday party…..  or a myriad of other reasons that seem to make it impossible to show their home.
Yet they wonder why their home doesn't sell.
CONSISTENTLY DENYING SHOWINGS OF YOUR HOME DOES SEVERAL THINGS
1-  DENYING HOME SHOWINGS TELLS BUYERS YOU ARE NOT INTERESTED IN SELLING
Deny one showing to a home buyer and they will most likely reschedule.  Deny two and the chances of them trying to schedule a third appointment drastically decreases.  Deny a third showing, no matter how interested they are they probably gone for good.
A home comes on the market and sparks a buyers interest.  They get excited.  Hopefully your home is the one.  But your home will quickly be replaced by the next one if you don't allow them in.
2-  DENYING HOME SHOWINGS CAN DETER AGENTS
Many times an agent will have several buyers looking for the same thing.  If you make it difficult for the real estate community to schedule showings they will probably steer away from your home.
Often, an agent has put a schedule together for multiple homes to be seen by one client in one session.  You deny an agent a showing it messes up their schedule and creates extra work.
3- DENYING SHOWINGS OF YOUR HOME CAN COST YOU AN OFFER OR WORSE SELLING YOUR HOME
I did four showings yesterday, 1 condominium in one complex and 3 condominiums in another.  The complex with the three had two different styles, my client preferred one style over another.
Funny thing, there was another unit right next door priced exactly the same as the style they liked, but that showing was denied.  No reason was given except that it was inconvenient for the seller.
Guess what, instead of waiting to see the second unit, we wrote an offer on the one unit we could see.  The client did not want to wait to see the other unit, and miss the opportunity of losing the one they did see waiting for when it was convenient for the seller.
Even worse your home can expire on the market unsold if you continually deny showings of your home.
It makes you wonder, was there something about the unseen unit that would have been more attractive to my client?  Was it worth denying the showing?
Remember, all it takes is just one person to be interested in purchasing your home.   Generally, I tell seller's that between 12-20 showings and you should have an offer if the home is priced properly, prepared for buyers and marketed well.
TIME IS YOUR ENEMY
The longer the your home sits on the market, the less interest buyers will have. It is so easy for buyers to see how long your home has been on the market or if it was on the market previously.  They wonder why no one else bought the house.
Their are may benefits to selling your home in under the first 30-45 days.  First if you sell your home quickly you are also probably getting the best price you can.  Secondly, buyers who offer early are your best buyers and it is more likely the deal will stay together.
Time is your enemy.  The longer your home sits on the market the more buyers will think if no one else wants it why do I?
BUYER'S MAY HAVE DIFFERENT SCHEDULES
I have been doing this long enough to tell you home buyers come in every flavor.  Some have flexible jobs, others don't.  There are buyers that work nights and weekends and can only come during the day.  There are others that work long hours and can only do weekends…  You get my point.
Every buyer will have different times they are available and their schedules will be different than yours.  But you need to accommodate all the buyers and their various schedules to get your home sold.
SO MAYBE YOU DO HAVE A DIFFICULT SHOWING SCHEDULE
Occasionally I do run into sellers who have difficult showing schedules.  One big issue we run into is pets that need to come out of the house for showings.
Think about alternatives.  Maybe one or two days a week you can stick your dog in doggy day care to accommodate the buyers who can only come during the week.  Or maybe a neighborhood kid can take the dog for a couple of afternoons for a few bucks.
If you truly have a difficult schedule.  Put together a schedule that works for you and leave a variety of times and days where your home is available for showings.  Your real estate agent can post that directly in the Multiple Listing Service so that it make it easier for the buyers agent to coordinate showings.
It is much easier for an agent and a buyer to plan ahead then to find out last minute… that time doesn't work, nope not good either, yeah that won't work…..  Get the buyers in!!
SHOWINGS = OFFERS = GETTING YOUR HOME SOLD!
Knowing that all it takes is one buyer to sell your home, try to maximize every showing and allow every showing to occur.  Yes, there are times in life where it is impossible to do a showing and that is certainly alright.
Often home sellers want to control everything, but it is important to know what you can control and can't control when it comes to selling your home. But denying showings will cost you money in the end or prevent your home from selling.  Don't turn away a potential home buyer.
Other Real Estate Resources:
This post, I Need to Sell My Home But It Is Inconvenient To Show It, was provided by Kevin Vitali of EXIT Group One Real Estate of Tewksbury MA.