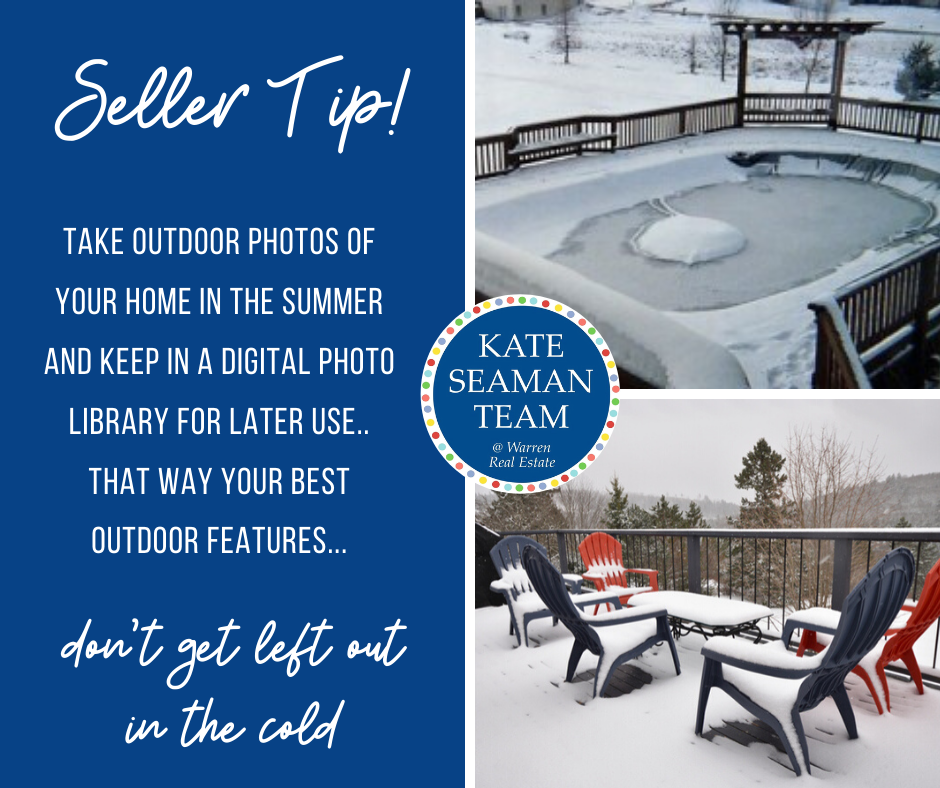 Create a Digital Photo Library!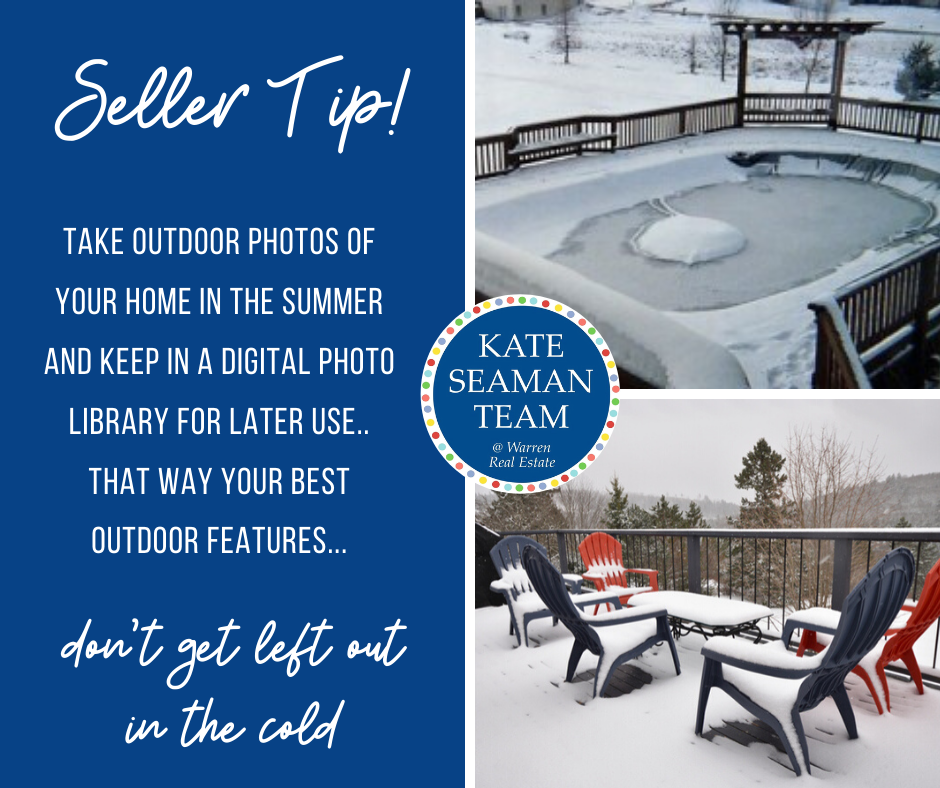 A question I am often asked is, when in the best time to list your home for sale? As with everything in real estate there is no bright, answer b every seller and every property have its own set of strengths and challenges and the timing is just another piece of puzzle.
However, every year the selling season seems to begin earlier and earlier. In fact, the first 40 days of 2020 I have already listed five homes and have negotiated four purchase offers! The momentum is exciting and sure makes these chilly days go by a bit faster but, selling real estate in the winter does have its challenges, particularly when it comes listing photos.
Many times when we're getting a winter listing ready for the market we have no choice but to take photos under blanket of snow which can make it hard to highlight exterior features of a home! Snow is a fact of life here and can be a factor anywhere from October- April. Obviously, it doesn't make sense to only list houses in the summer, but you can maintain a photo library of your home throughout the seasons. This way your property can be showcased in it's best light, no matter what time of year you list.
This is especially important if you have terrific outdoor features like an in-ground pool, lush landscaping, vegetable gardens, a distant view, flowering trees or even just a great deck for entertaining. B Many sellers will think they have these types of photos already but often that photo of the pool you remember taking also has people swimming in it and can't be used in the marketing of your home.
My advice, don't let your outdoor features get left out in the cold! Next time you just re-mulched the flower beds or have the deck ready for a BBQ- snap a quick picture or two and save it to a digital photo library. Even if you don't intend on making a move soon- you'll be happy you have it when the time comes.
Questions about selling or buying a home? Give me a call on my cell at (607) 280-3339!
Happy Summer Solstice,
With over 30 open houses this weekend (including four from the Kate Seaman Team)- it's a great opportunity to start or continue your home search. Follow the link below to see the entire list and if you're not in the market for a home but still looking for something to-do we've found three great options for you!
Have a great weekend!!
From your real estate #dreamteam
---
---
Come aboard for a Sunset Boat Cruise to watch the sun set on Ithaca's beautiful Cayuga Lake this Friday, June 21st from 7:00pm to 9:00pm! Great for the family, significant other, and more, this cruise will surely demonstrate just how beautiful Ithaca is and send you home with a smile. The cruise is friendly of all ages and suggests to BYO refreshments.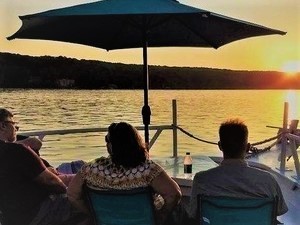 For more information and to check out prices and availability, visit the events page at: https://events.visitithaca.com/event/sunset_cruise_on_cayuga_lake#.XQk4QYhKjIV
---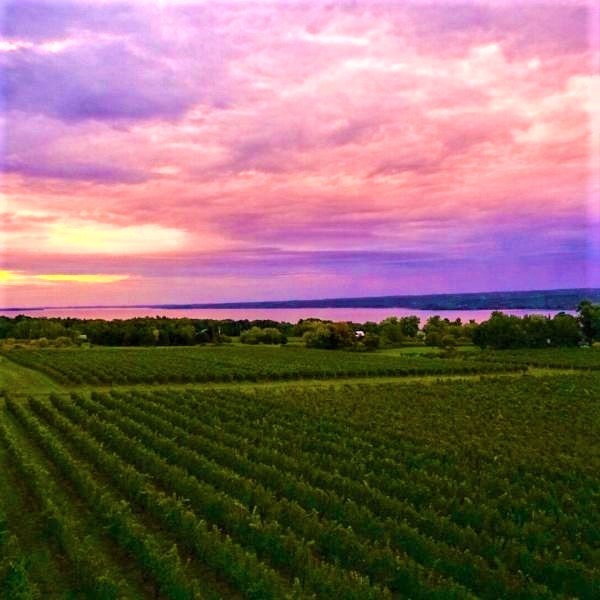 What better way to celebrate the 2019 Summer Solstice than great wine, jazzy music, delicious smoky BBQ, regional beer, specialty cocktails, lawn games, local vendor and more! Free of charge, Hosmer Winery is hosting a Summer Solstice celebration on June 22nd, 2019. Come and enjoy delicious drinks during a Wine Walk through the vineyard, while listening to jazz music from Tarps Rock, and enjoying Blowin Smokes mouthwatering smoky barbecue. Lawn games will be out, and local vendors will be selling handcrafted goods such as jewelry, crafts, cheese boards, and more. For more information, check out the events page at: https://www.fingerlakes.org/events/summer-solstice-celebration-hosmer-winery
---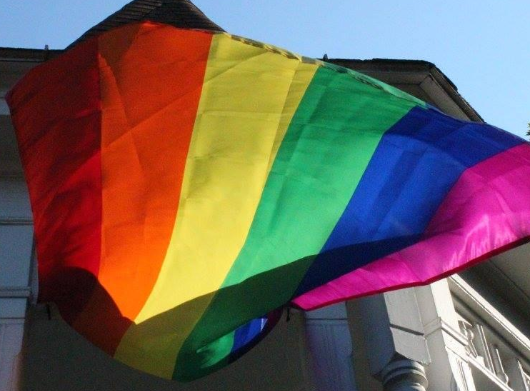 Celebrate Ithaca's diversity at the second annual Pride Picnic, hosted by The Finger Lakes Pulse equality group. The event will take place from 12:00pm to 4:00pm in downtown Ithaca, at the Cass Park pavilion near the Ithaca Children's Garden on Sunday, June 23rd, 2019. Stop in to enjoy games for all ages, food, and great company! All are welcome, and no one will be turned away for the inability to pay. For more information, check out the events page at: https://finger-lakes-pulse.ticketleap.com/pride-picnic-2019/]]>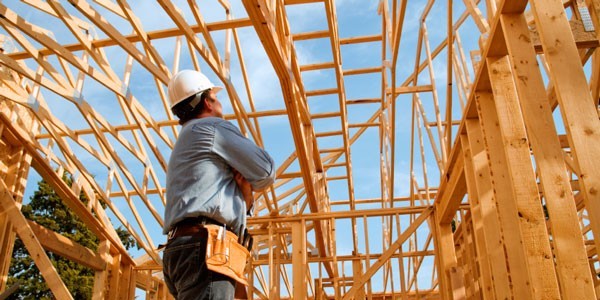 Over the last six
months or so I've had a few clients who have been debating between buying an existing home and purchasing land in which to build a new home on. It goes without saying that both have their pros and cons. However, with existing home inventory low right now it seemed like an ideal time to explore the benefits of new construction and what to keep in mind if you're considering it.
For those of you unfamiliar with the home building the process, NewHomeSource.com has a wonderful article with a step-by-step guide on what to expect during the major phases of construction. The longest phases of the process are the bookends- land development and final finish of the home,  Jack Litzenberger, owner of 2 Pros construction says. The framing, roofing and siding are performed quickly in comparison. Of course, that development cant begin until you've purchased the land which is the first important step in building a home.
Whether it's to take advantage of a lake view or to create a passive solar design to help with heating costs; one of the most beneficial parts of building a new home is the ability to select its exact location. Nearly as varied as existing homes, the sizes, shapes and cost of building lots in our area are vast. I always recommend that my clients take their builder out to walk any lot they're considering buying before making any decisions because the quality of the land can make a large difference on the overall cos
t. Not only do you have to take into consideration the lot's topography and zoning regulations, you also need to determine the how your future home will receive water, septic and electrical services. Take your time and find the lot that meets your wants and needs.
Another question I am often asked is the cost difference between building and buying. This is a tough question because you're never comparing apples to apples. Chances are very likely that a new home design and build will cost you more than buying an existing home. However, depending on the age of an existing home and the repairs or renovations that are needed, the actual price of an existing home can climb pretty quickly. Jack Litzenberger, reminds potential clients that b[with new construction] you have a good chance of little to no maintenance for at least 10 years. B You know that the products are new and should perform as such, and warranties come with the new products.
Another important consideration with any buying decision is financing. Taryn Schwartz, a Mortgage Originator at Elmira Savings Bank says, "When considering new construction verses an existing home a borrower should keep in mind that the closing costs on construction loans are slightly higher; however, the borrower may have a loan to value as high as 95% of the total acquisition cost or appraised value (whichever is lower). Traditionally loans used to finance new construction can take longer to secure and have stricter standards when it comes to required documentation and the borrower's credit scores.  Often times there are also deadlines on when construction needs to be completed so all of these factors need to be discussed with both your agent, your builder and your bank.
---
Current Land Listings:

If you or someone you know is thinking of building a new home take a look at these
building sites
Additional articles and resources:
Realtor Magazine: Build vs Buy

Elmira Savings Bank: Construction Loan Info
Costs of Building a Home- Realtor.com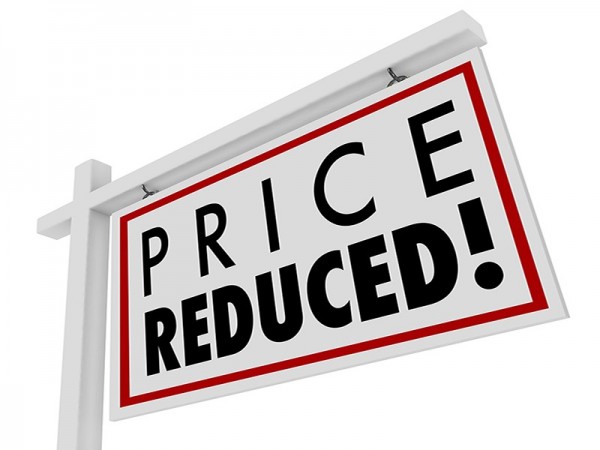 I always say there a two things that sell a house: price and time. In most cases, time is of the essence in a home sale which makes price the biggest factor. As real estate professionals we do our best to suggest an accurate list price from the beginning, but the market is always changing and a price reduction may be the answer.
Reducing the price of a home often gets a bad rap. Sellers want to get the highest price for their home and to them reducing their list price conflicts with that. Another reason my sellers tell me that they don't want to take a reduction is because they are afraid that potential buyers will see the reduction as a sign that there is something wrong with the house.  In my experience a price reduction doesn't detour would-be buyers, in fact, the goal is just the opposite. It should re-mobilize the real estate community. Pricing your home just 10% above the fair market value may cause you to miss out on 40% of your potential buyers.
WHEN to reduce:
If there is little to no activity your first two weeks on the market

The first two weeks of a listing should be your biggest boom. There are always exceptions to this rule but if you're not getting any showing requests that's a major indicator that you've priced your home too high.

Before your neighbor does

Don't chase the market!!! If there is a lot competition in your area you'll need to reduce your list price BEFORE your competitors. If you wait too long you'll most likely need to reduce your price even further if the market prices decline ahead of you

When time isn't on your side

When you have a target date that you need to sell your home by consider a price reduction to help you meet that deadline. It also may be time for a reduction if your home has been on the market longer than the average for your area. I believe that days on the market (DOM) carries a much bigger stigma with buyers than price reductions. The longer your house has been on the market, the more negotiating power the buyer will assume he/she has.
I may also suggest price reductions towards the end of the selling season, especially if my sellers are hoping to close on their home before the winter starts. The real estate market is the strongest March-May with June-August close behind. Taking a reduction in later months can help re-energize the interest in your home and may help you stand out from the competition.
HOW to reduce
A price reduction for reduction sake isn't going to make much of an impact. To really change your outlook and broaden your net of potential buyers I suggest price reductions in the 3-5% range.
Ignore what you paid for the house and the cost of the improvements you've made. That wont determine what a house will sell for- only the market will decide that.
Without wiggle room. Sometimes my sellers want to leave broom to negotiate and over inflate their asking price accordingly. This strategy can lead you to price yourself out of the market. Don't make the same mistake when discussing a reduction with your agent. Price the home according to market trends and worry about negotiating once you actually have an offer.
Success Story:
Last spring I listed a beautiful home on Seneca Lake. Our initial listing price wasn't attracting very much activity. B The sellers trusted me and we agreed to reduce the price 5-7% a month until activity picked up. We received two full-price offers just five days after our last reduction. Because we were aggressive with our pricing strategy, their home sold 50 days faster than the average lake listing for 2015.
If you'd like to read more about price reduction strategies check out these articles on inman.com and homeguides.com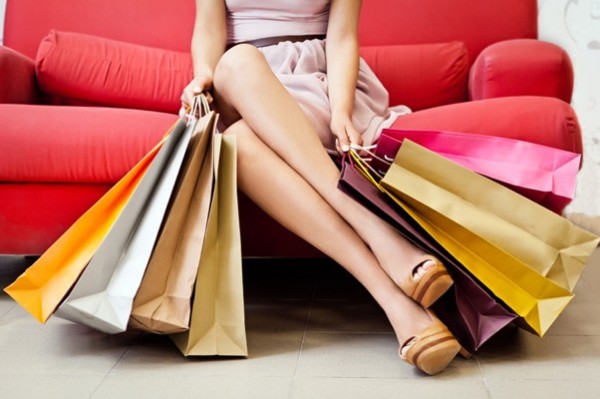 With the holiday buying season almost in full swing I thought it was a great time to discuss some financial guidelines to follow if you're hoping to buy a home this upcoming spring. I asked my friend Bonnie Osadchey, a mortgage originator at Elmira Savings Bank, to share some insights on what banks look for when applying for a loan…
NO LARGE PURCHASES. This includes cars but can also include furniture, appliances and jewelry, especially if you would need to take out a loan or use a credit card to finance the purchase.
KEEP CREDIT CARD BALANCES LOW. Its very easy to say charge it when spending for the holidays but this is one of the areas the most important areas to keep control of. Your balances should be kept at or below 30%.
PAY ON-TIME. A late payment stays on your credit report for a whole year so unless you have a grace period even paying a day late may affect your credit score.

FILE YOUR TAXES EARLY. Banks will need your current income tax returns so filing as soon as possible after the New Year is preferred. If you're self-employed this is even more important as banks will require two years worth of returns showing your self-employment income.
KNOW YOUR DEBT TO INCOME RATIO. Most banks will ask for a debt-to-income ratio of 43% or less. Included in that is any revolving debt which includes current mortgage payments, student loans and credit card payments.
BEWARE OF DISPUTING THINGS ON YOUR CREDIT REPORT. You can receive a free credit report (you should never pay for your credit report) annually at annualcreditreport.com. If you find something that doesn't look right beware of filing a dispute, this can actually poorly affect your chances of getting a loan. Talk to your loan officer first to see if there is another way to solve it first.
For more information on maintaining healthy credit and applying for a mortgage contact Bonnie at bosadchey@elmirasavingsbank.com or 607 481 5710.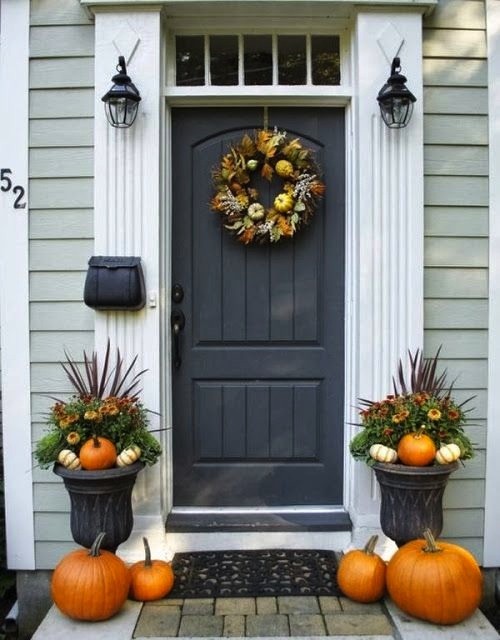 An active fall market
After the lively and sometimes chaotic spring and summer season of real estate most of us welcome the slower pace that autumn can bring. Kids have returned to school and everyone is back into their respective routines. Although generally the colder weather does signal a slow-down of the market, that's not always the case and is definitely not the case this year!
We have been fortunate to see a VERY active fall market in the Ithaca area thus far!!B Autumn can be an amazing time buy or sell
; here are some tips to get you started-
Selling in the fall:
Get Serious:

Fall and winter are not good times to test the market. When selling in the fall it is very important that you're dedicated and motivated to sell. You'll also want to make sure you have a game plan should your home sell quickly. Many buyers will be motivated to close before the holidays so you'll want to be sure you can accommodate that whenever possible

Pay Attention to Price: Price is important in all seasons but even more so in the fall and winter. Serious buyers are looking at new listings no matter what season. In fact, selling in the fall may be beneficial in that more often than not only ready, willing and able buyers continue their search year-round. BUT, if your home is overpriced you'll lose out on those prospective offers.
Create Curb Appeal

Fall can wreak havoc on your yard. Curb appeal is important year-round but even more so as the temperature turns and landscaping may not be at its best. Keep leaves raked, buy some planted mums or pumpkins to brighten up the entrance and keep your window boxes full. There are plenty of hardy floral and plant options that will keep your home looking great!

Get Cozy

Although buyers may not be as concerned with the heating of a home when its 80 degrees out- when fall and winter arrive, this will be a top priority. It's a good idea to get your fireplace and HVAC system cleaned and certified before listing your home. Its also a nice idea to create warmth during the showings. Light the fireplace, open the curtains to allow in natural light, add a pop of color to a neutral sofa with a throw or decorative pillow, and fill your home with the scents of autumn like cinnamon or pumpkin.
Buying in the fall:
Do your research: One of the best reasons to buy in the fall is the ability to capitalize on stale listings. If a home has been on the market for the majority of the spring/summer and still hasn't gotten an offer, the sellers may be more open to negotiating in lieu of having their home.
Be prepared

Sellers are just as motived to sell as buyers are to buy in the fall. Make sure you're ready and able to make a strong offer by getting pre-qualified from your bank. And although, NOT impossible- try not to have your offer contingent on your current home selling. Again, sellers are motivated by the upcoming winter season so an offer contingent on another home sale may not be in their best interest.

Consider a pre-offer inspection

If your goal is to be in a new home by the holidays then consider doing a pre-offer inspection. This way you are alerted to any red flags before you put an offer in on a house. If everything checks out you'll be able to move right on to applying for your loan immediately after your offer is accepted. If time is of the essence, this can save you up to two weeks!!

Everything happens for a reason

Buying a home can sometimes be a stressful more even MORE so if you're hoping to do it within a certain time frame. Fall is a great time to buy, you may have more bargaining power and there are tax benefits of buying before the years end. However, it's important to relax and not rush into anything. At the end of the day, you want to make sure you will be happy in your home for years to come. Don't settle on what's most important just because you can get a great deal
If you or someone you know is considering buying or selling, please reach out to me. I am here to help, no matter what the season!!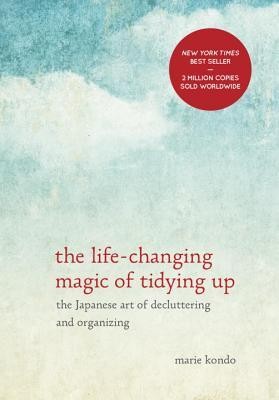 The best way to find out what we really need is to get rid of what we don't.
If you've been to a bookstore recently or googled de-clutter or organization in the last six months you've probably stumbled upon Marie Kondo's book, The Life Changing Magic of Tidying Up. Its been on the New York Times Best Sellers list for 42 weeks and is number 3 on Amazon.com list of top-selling books of the year (thus far).  I wondered what all of the buzz was about and although I have only JUST BEGUN using her method, I wanted to share with you some of her key points if you're looking to downsize, organize or simplify.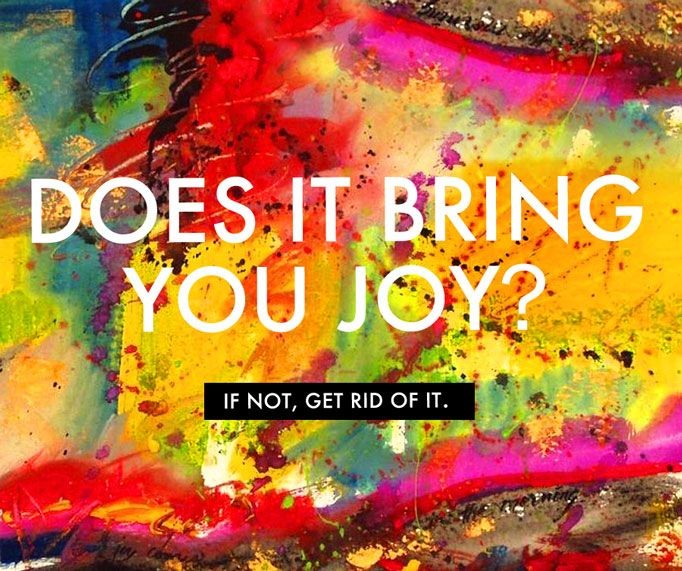 Her major principle, so simplistic you wish you thought of it, is this: Does it spark joy? If not, discard it. No need to worry about- when's the last time you wore it or is it out of style, just one simple barometer: joy.  If your thinking, wait, how can objects spark joy??b Marie Kondo encourages that the moment you hold something in your hands you'll be able to tell whether or not it sparks joy in your heart. She, as a lot in the Japanese culture, believes that everything transmits energy and we just need to be aware of it.
Also like much of Japanese culture there is a strict order to her methods. You must discard first, totally and completely before attempting to put your things in order. (This means a mad dash to the container store IS NOT the correct way to declutter or tidy-up) Another must: discard by category, not by room. Have you ever attempted to reign in your mismatched socks or sort thru candles or other decorative items? Most items have MULTIPLE locations where they are kept in the home so tidying by category minimizes the risk that something will be missed. This is the best advise I've found so far.  Again, I have only just begun to put this into practice, but sorting by category and not by room helps keep
you focused and on task.
Kondo promises life-changing results if her method is followed. This past weekend, my husband and I went through all our clothes. It was so liberating!!! We filled his entire trunk with clothes to donate to The Salvation Army!! Once we removed the unused, the don't fit, the out of style or the clothes that just don't make us feel good, we were left with enough space to effectively organize what remained and now and have the ability to wear only what we like!! B B Getting dressed is so much faster and easier! This is only the first step but I am so motivated that I can't wait for what comes next.
Even those of us who just claim to be messy can find serenity in their surroundings if they commit to her methods. In fact, she believes that no one is messy, but the disorder in our home mirrors the disorder in our personal or professional lives. Marie Kondo explains:
A dramatic reorganization of the home causes correspondingly dramatic changes in lifestyle and perspective. It is life transforming &. When you put your house in order, you put your affairs and your past in order, too."
To learn more about The Life Changing Magic of Tidying Up, you can purchase the book here, or read more about it in the articles below.
Psychology Today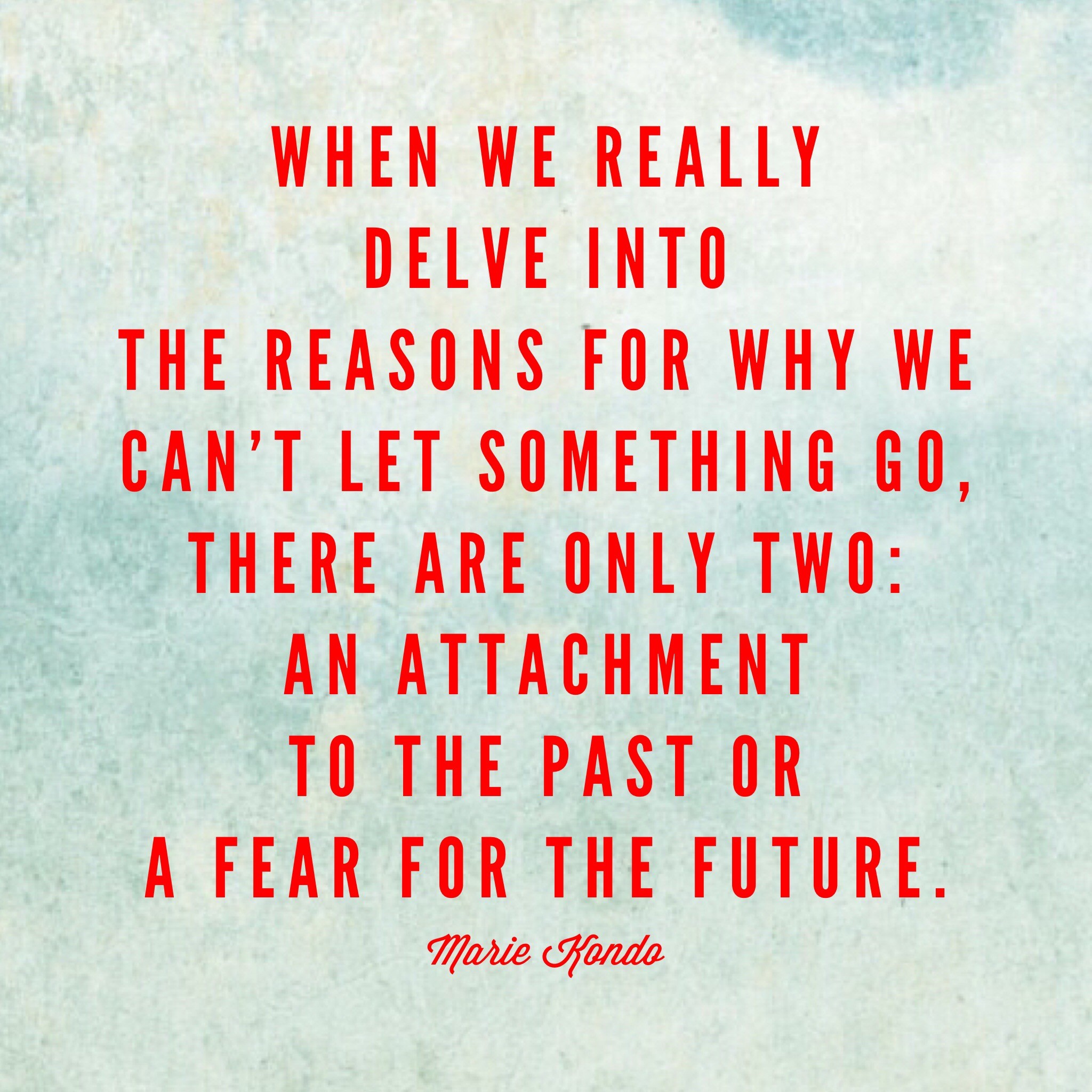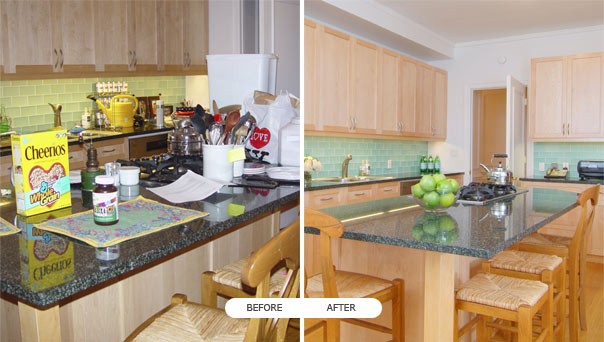 Staging is an important and cost-effective strategy you can use in the selling of your home and one I recommend it to all of my sellers!!! On occasion, I am met with hesitation and a sleuth of questions as to why their home needs to be staged and how they go about doing it. Because its such an important part of the process I've compiled following tips for success.
THE GOALS: Of course the ultimate goal is the sale of your home but before that can happen you need to attract qualified and interested buyers. Staging your home will achieve this goal and brings many other perks
A big return on your investment!!! On average for every $1 spent on staging a home, the selling price will increase by $2
Your house will sell much faster
You will grab and maintain the attention of potential buyers
A staged home will photograph better and make a bigger impact on internet shoppers
You can highlight the positives and unique features of your home
Money spent on staging your home may be tax-deductible
Staging is relatively inexpensive, 1% of your homes value is all your need to spend
HOW-TO: Staging your home doesn't have to be complicated, here are some basics:
De-personalize: Buyers want to be able to picture themselves in the house- and that means putting away your photos and other sentimental items
Maximize: Declutter and maximize the area in your home. Stuffed closets make your closet space look insufficient, so consider storing excess belongings offsite. Remove any furniture that isn't in use, and keep countertops and other surfaces clear of clutter.
Sanitize: Clean your home to make it much more appealing to prospective buyers. Enhance the open feel with white bath and hand towels on display in the bathroom and get matching hangers for your closest. Make sure the kitchen is spotless and pay attention to high and low areas like baseboards and ceiling fans.
Modernize: A dated-looking home means a lower offer, so modernize your home wherever possible. Small changes, like replacing old fixtures or removing hand-made C)core items like doilies can make a big difference. Small repairs are also a must.  That doorknob that doesn't quite work right. now is the time to replace it!
Neutralize: Keeping a neutral color scheme throughout your house can help your buyers envision themselves in your home. This usually means you'll need to paint some rooms in your house, especially very bright or loud colors. Emphasize any natural light your home gets using a mirror and subtle lamps. Keep your curtains and rugs neutral or choose ones with subtle designs.
Set the Stage: Pretend your home is a stage and set it up so that potential buyers can easily play the role of living there. Set the dining room table, add a vase with fresh flowers for a beautiful focal point, and create a seating area on the porch with iced tea and drinking glasses, light candles and/or turn on ceiling fans. The goal is to create action within the home without personalizing it.
WHEN TO HIRE A PROFESSIONAL: Selling a home can be a very emotional and stressful time and it's usually very hard for sellers to be objective when it comes to staging or removing personal items from their home. If you have a high emotional attachment to the house you're attempting to sell I highly recommend hiring a professional to help make the process easier.
Here's a list of local professional to consider
Beth Hogan | 607-339-1474
Steve Bowman | 607-351-3540 | 607-277-7240
Thinkfresh Interiors | Karen Governanti | 607-256-8331 | 607-229-5003
ReDesigning Women | Bonnie Geiger & Jayne Obialero | 607-533-7840
Bloom Designs | Ramonda Schwieder | 607-846-1178 | bdcny.com
Get it SOLD Home Staging | Jennifer Sullivan | 607-592-7963 getitsoldhomestaging@twcny.rr.com
Jennifer Gemmell | jennifersroad@gmail.com
Sources: Home Staging on a Budget: Happy Homewife.Com, Styled, Staged Sold Blog: Realtor.org, Home Staging on a Budget: Moshells.com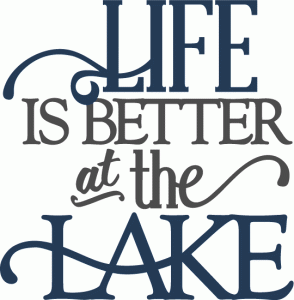 Life on the Lake
Growing up I was fortunate enough to spend a lot of time with my family at our lake cottage in Interlaken- it always brought me a sense of relaxation and I loved being in the serenity of nature.
I'm sure we've all had a similar feeling and this time of year most of us are eager to get out on the water, in whatever capacity that may be. Recently, I stumbled across the work of Dr.
Wallace J Nichols, a marine biologist who has been studying the benefits of being in, on or near the water and trying to quantify the peaceful feeling we get in a scientific way. Nicholas book, Blue Mind: The Surprising Science That Shows How Being Near, In, On, or Under Water Can Make You Happier, Healthier, More Connected, and Better at What You Do is a New York and LA Times bestseller and has been captivating audiences since its release last Summer.
"You'll read it once and then come back to it time and again as you begin to realize how your love for water has always shaped your decisions, feelings, behavior, choices and lifestyle." – Washington Post
Not that far of a stretch I suppose given that water is a life force for all living things but I found it inspiring that Nichols was moving beyond this good feeling we get and furthered his research on the healing properties of water. Its meditative qualities resonated with me, especially given my attempts at being more mindful in my crazy busy and stressful life.
When we look out upon the places that we know b the creeks, the rivers, the ocean b we are learning from science that this lights up the same part of the brain that gets activated by other kinds of love, Nichols said.
I had such fond memories of growing up on Cayuga Lake that I wanted to specialize part of my business in lake property. There is just nothing else like waking up to the sunrise over the lake and listening to the sounds of nature.
Currently I'm featuring the following lake properties:
109 Maplewood Road | Ithaca, NY
8455 Bergen Beach Rd/ Covert, NY
5234 Oak Harbor Rd/ Trumansburg, NY
If you or someone you know is interested in buying or selling a lake property, please keep me in mind!!! I have intimate knowledge of Ithaca and its neighborhoods and am a top performer in selling lake homes.
Additional information about Wallace J Nichols and his research can be found here:
http://www.wallacejnichols.org/103/839/cbs-this-morning-blue-mind.html
http://www.wallacejnichols.org/101/921/msnbc-blue-mind.html
http://www.wallacejnichols.org/101/858/outside-magazine-the-current.html
http://www.wallacejnichols.org/101/917/bay-journal-blue-mind.html